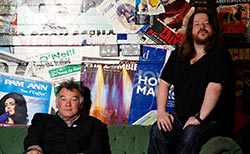 The Aid Fundraiser organises and manages big charity events at major London venues raising money for charity. The last year The Aid Fundraiser has established to be major player in the event charity calendar through comedy working alongside some of the biggest comedians in the UK.
In 2013 the Aid Fundraiser is venturing into music with a couple of Charity Concerts planned at Koko's.
Stand Up on Everest in 2014 plans to take a group of famous comedians to climb up to Everest Basecamp and perform a show. If this sounds of interest to you and you want to be part of this please contact The Aid Fundraiser for further details.
"Hilarious Comedy laughed all night and what's Amazing it raised thousands and created awareness for Macmillan Cancer Support".
Simon Pedro - Macmillan
"Laugh at Loud was fantastically, side hurtingly hilarious. We are honoured to have been supported by such a professional, respected and worthwhile organisation."
Marie Healy – Mind
"We are delighted The Aid Fundraiser has chosen to support Crisis by holding 'Laugh Till It Hurts' comedy gigs and donating a gift raised from ticket sales. The night was wonderful fun too".
Kirsty Cunningham – Crisis
Supported By:


STEVE BEST is a great visual comedian, harnessing a mind-boggling array of gadgets and gags to keep his audience in stitches.
If you are wishing to organise a corporate comedy event look no further because The Aid Fundraiser can provide any requirement from a comedy workshop to a big corporate comedy event.
Please contact Jeremy for further details.